Engagement Innovation
The Company's products and services are provided on an on-demand basis, meaning the delivery model utilized is based on a centrally hosted and highly secure cloud network rather than residing on and accessed directly from the clients own computers or servers. In this manner, customers can access and use our products through any internet enabled device anywhere in the world.
Our technology delivery method, defined as Software-as-a-Service (SaaS), is a turnkey solution which requires no onsite hardware or IT resource requirements. One benefit of our SaaS product is the ability to deploy our services without taking on the cost and complexity of buying and managing the underlying hardware, software, and necessary hosting infrastructure.
The MeshWorks cloud service affords rapid adoption and on-demand user deployment throughout an organization, affording the flexibility to scale up or down services based on a client's unique demands with little to no advance user training required.
Administration, creation and delivery of our engagement applications is conducted entirely from the Internet with the power of control placed in the hands of the client and their authorized users. For example, account administrators set brand parameters such as logo and corporate color standards which are unique to the organization as well as activating and setting user permissions.
The individual user is given their own personal environment where they can import personal contacts from Outlook or Gmail, store content and create live video recordings. From their media library they can build and send a dynamic message to one person or a mass audience; all managed by accessing a unique and secure account portal through any internet enabled device.
Another important aspect of our cloud service is found in our unique approach to client usage capabilities. Our service philosophy is that business should operate without limit. With our service, the administrator and each individual user are provided unlimited usage to include unlimited email sends and unlimited cloud media storage.
In addition, our cloud engagement technology was designed to allow for future integration with other enterprise software or third party applications such as Microsoft, Salesforce, Constant Contact, MailChimp, HubSpot and others. Our technology path focuses on broadening sync capabilities with third party applications, advancing data collection and analytics as well as evolving our platform's mobile and location marketing capabilities.
MeshMail Platform Architecture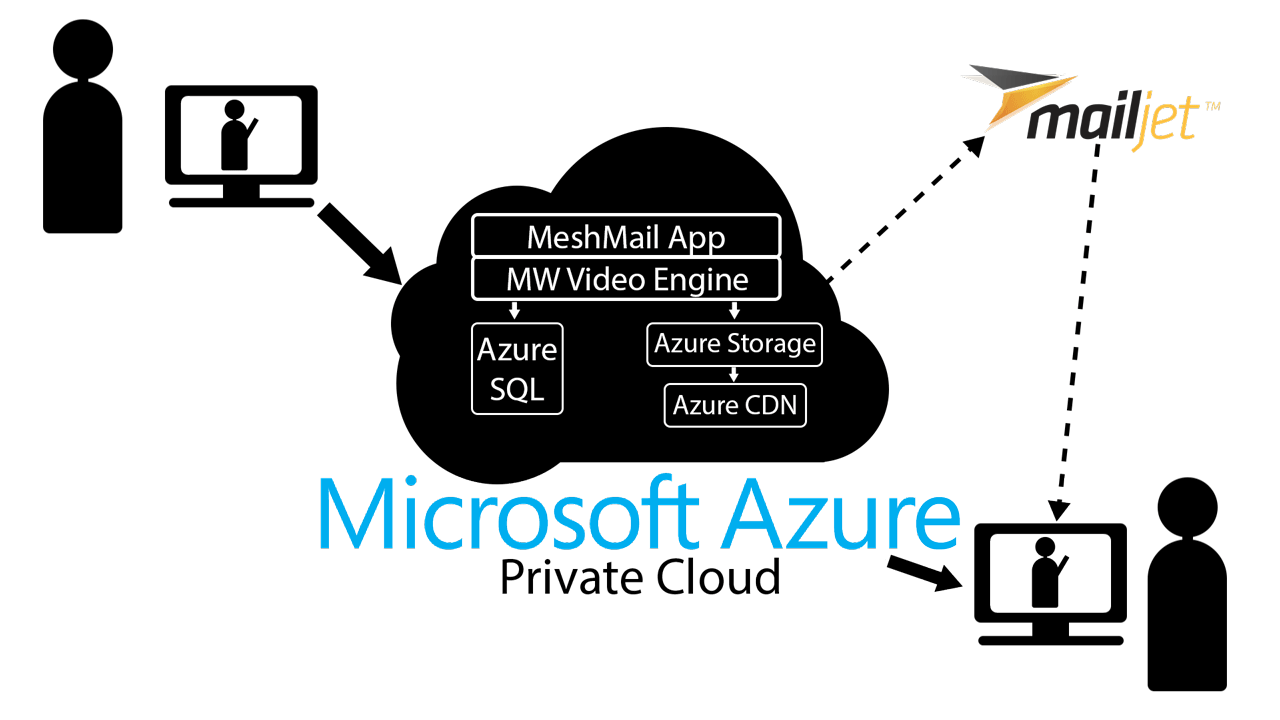 Video Management and HTML5
MeshMail's proprietary video management solution is powered by our 3rd generation video engine technology. A unique feature of our video engine is in the conversion of any media file, during the initial upload, to a platform-agnostic format that at the same time pre-caches and optimizes the video for future viewing. As a result, our video engine eliminates long video load times and frustrating start-stops delivering the best viewer experience possible for the message audience.
MeshMail architecture is based in HTML5 structure. Our selection of HTML5 was determined by the advantages of interoperable implementations and application programming interfaces (APIs) with complex web applications; specifically, video. HTML5 supports cross-platform mobile applications as it is designed for use with devices such as smartphones and tablets.
Security and Compliance
MeshMail's cloud service, is a highly secure and redundant environment hosting the MeshMail platform to include but not limited to database, content media management, analytics, mobile applications, networking and media storage. MeshMail is built on top of the Microsoft Azure Cloud, the most used, trusted and secure cloud computing service for enterprises around the world. MeshMail's data is stored in a private cloud instance managed by MeshWorks but with all access and control privileges being managed strictly by the unique account holder.
With MeshMail and Azure, the ownership and control of your data is yours— we will not use your business information or specific customer data or derive information from it for advertising or data mining purposes. With MeshMail every video, image file and document uploaded by you, or on your behalf, through the use of MeshMail is yours and yours alone.
MeshWorks has your business covered in regards to compliance and the requirements governing the collection and use of an individual's data. By partnering with Microsoft Azure, MeshWorks is able to piggyback and pass on to our users the most comprehensive set of certifications and attestations offered by any cloud service provider.
Azure meets a broad set of international and industry-specific compliance standards, such as ISO 27001, HIPAA, FedRAMP, SOC 1 and SOC 2, as well as country-specific standards like Australia IRAP, UK G-Cloud, and Singapore MTCS.
Cloud Storage and Content Management
MeshMail combines multiple Azure technologies like Azure SQL, Azure Storage and Azure CDN with the MeshWorks proprietary media engine to deliver the world's most robust and performant video email and content management platform available.
Content Management & Storage Solution for Your Team:
Easy to use Drag-and-Drop interface
Accepts most media formats with no size restrictions
Upload your media and files from any internet enabled device
Unlimited media storage of video, images, and most file formats
Share your media and files within your organization for easy team collaboration
Private Cloud access to your entire media library wherever you are, whenever you want
Easy workflows with search & sort features to filter and organize your personal media library
Administration
One of MeshMail's many unique features is in the administrator's ability to add, deactivate or remove users based on need. Account administrators have full control over their users' groups and the individual permissions of each user to include media sharing rights.
Administrative Functions:
Corporate Logo Set
Corporate Color Set
Customize Terms and Conditions
Global and User Reporting Functions
On-Demand New User Set Up & Activation
On-Demand User Deactivation and Re-Assignment
Media Control
The MeshMail platform provides security and media access control that is unique in the industry. The videos, content and documents you place in your private cloud can only be accessed by those recipients you have messaged. Except for attachments, your media can't be downloaded or saved on a recipient's computer, it can only be viewed. This level of control affords both the administrator and the individual user the ability to determine what media is accessible and for how long. MeshMail's media management and access authorization features deliver a higher level of control and information security for the outbound message than previously available.
Dynamic Message Management:
Lifecycle Message Editing After Initial Distribution
Message and Media Control; Remove and Kill Media Access
Contact Management
The MeshMail Contact Manger is unique in that it allows the user to upload an unlimited database of relationships while continually monitoring the validity of each individual email address and automatically quarantining those addresses which bounce or are unsubscribed by the recipient. This unique feature helps ensure message deliverability and takes the worry out of managing your contact list.
Customer & Contact Management:
Unlimited contact uploads via CSV or Excel with lightning fast import speeds
Email address monitoring with auto-filtering based on bounces and unsubscribes
Contact organization features include sorting and segmenting by name & client groups
Analytics
The MeshWorks video engine in conjunction with Azure not only handles video processing, but also serves up the messages, manages the playback, and collects the analytics off each message while the viewer is watching and interacting with the message.
MeshMail delivers real-time and historical reporting of message performance specific to each unique recipient.
The MeshMail platform will collect data from each unique recipient specific to time viewed, links clicked and message forwards.
Bulk Email and Marketing Automation
MeshMail's email engine is powered by MailJet, a global backbone for transactional and promotional email distribution. MailJet's long and reputable history with transactional and promotional email ensures messages sent by MeshMail will be delivered to your recipients' inbox in real-time, every time.
Our partnership with MailJet and the subsequent combination of proprietary email solutions has created a powerful business email platform servicing any size business operating anywhere in the world.
Email Marketing Automation
MeshMail's campaign management features affords the ability to create drip campaigns for the timed distribution of one or mass audience messages based on a specific date and time.
Video Email and Social Messaging
MeshMail easy-to-use message creation interface allows the user to build, send and track custom, interactive video emails which include a unique private label inbox format delivering a distinctive message introduction to the intended audience.
Message Branding and Creation
Customize every message element, on the fly
Select from multiple custom messages templates
Add branding components like your corporate or product logo and company colors
Record personal video messages on-demand via any computer or mobile device webcam
Customize message experience with image backgrounds that enhance the message goal
Compel response with call-to-action buttons that link the recipient to the result you're seeking
Email Messaging
Unique Inbox message preview drives a recipients need to click and play
Video messages play across all browsers and internet enabled devices
Social Messaging
Distribute messages via your social channels like Twitter, Facebook and Google+
Edit and control access to and availability of the message
Attachments
Add attachments to any message
No attachment file size or delivery restrictions
Control access to and availability of the attachments
The Future
Our development path will focus on the evolution of the technology, building upon the platforms ability to integrate other software and/or applications. In the coming months, MeshWorks will introduce new and exciting enhancements in the areas of third-party sync capabilities, in-message video editing, advancing data collection and analytics as well as evolving our platform's mobile and location based marketing capabilities.